The Cherokee Maidens – Bluegrass from Birth
Posted on July 25, 2017 by Pamm Tucker
What began as a gig for Monica Taylor at the Oklahoma International Bluegrass Festival, (which is held in Guthrie, OK), was actually a great opportunity knocking on her door. Robin Macy's mom, after hearing Monica perform, said "You should meet my daughter. The two of you have similar interests, background and style." Soon after, Taylor and Macy met, and "done a little picking and grinning." Seizing the moment, these two ladies found their love, not only for music but for each other, and formed The Cherokee Maidens.
The Cherokee Maidens & Sycamore Swing lay much more on the table than swing music. This tri-state trio, made up of Robin Macy, Monica Taylor, and Lauren White cut their teeth on bluegrass music. Macy resides in Kansas, Taylor is from Oklahoma, and White, resides in Kentucky; however, the distance doesn't keep these three talented artists from performing, recording and showing their sentimental side. Although miles apart geographically, The Maidens' harmonies are right on spot and all three of these women were born with bluegrass in their veins.
Macy's career was defined by bluegrass standards. She was performing at bluegrass festivals as early as age of 11, along with her sister, Amy, on banjo, and Jim Schultz on bass. Playing in the Mid-America bluegrass circuit growing up, Macy literally cut her teeth on bluegrass. The music was a way of life years before Macy turned 30.
Meeting the Lancaster family, Texas Shorty, and Sharon Gilchrist, assisted Macy to connect with the Erwin sisters. It was in the late 1980s that Macy and the Erwin sisters, Martie and Emily formed The Dixie Chicks. The Chicks were honored with the title of Best Band at the 1990 Telluride Bluegrass Festival. Soon after, Macy left the band, as her dream was to be "purer" in the genre of bluegrass.
Macy's career didn't stop, in fact it took off. Robin continued to write and play in a bluegrass band at different venues in Dallas. Jeff Scroggins, banjo player, and a great musician, writer and friend accompanied her on stage. Before long, Macy had left playing with a trio of women, and joined yet another, the Domestic Science Club. This trio recorded two albums before disbanding.
Continuing a bluegrass style of life, Macy joined The Blue-Plate Special, who performed at the Walnut Valley Festival in Winfield Kansas in 1999.Big Twang was her next stop. A bluegrass quintet, founded by Macy, won the Rockygrass Band Championship in 1999. Literally making a wrong turn in Kansas turned out to be the right way for Macy. Robin is now, as she calls it, a steward at the Bartlett Arboretum. I found myself at the Bartlett Arboretum website, and thought this was a worthy quote to borrow, "The first line of Walden suggests that we go 'to the woods to live deliberately,' " Macy says. "Mr. Monroe is credited with 'the high, lonesome sound. For me, to create music and to live deliberately among trees – and to appreciate my fellow man – is the essence of my being." The Bartlett Arboretum Treehouse offers a concert series at various times throughout the year.
So one could say that Robin's life thesis may revolve around David Thoreau, and Bill Monroe. I know her music is Bill Monroe written, her style is original and her voice is one you won't forget.
A Perkins, OK native, Monica Taylor's roots are at The Farm, which is the epicenter of RED DIRT. Taylor, during a recent interview, in Stillwater, OK, told me she found her soul at the farm.
Taylor was given the nickname of Cimarron Songbird by Jimmy Lafave and Bob Childers because of her unique singing style, and the fact that she grew up near the Cimarron River. Monica sings from the heart, telling stories of red dirt roads, home, fence posts, sharing her Cherokee Indian heritage as well as her Scottish roots. Taylor's style emulates Emmylou Harris, and she is an artist whose music is based on traditional values, but not hemmed in by it. She is host of the Cimarron Concert Series in Perkins OK., which is held at the Old Church. Without a doubt, a songbird, with a slight yodel in her voice, Monica can penetrate your soul with her vocals.
Lauren White, better known as Sis, grew up in the bluegrass world. Her roots can be traced back to 1909 where her paternal great grandfather played with the Pleasant Valley String Band of Grayson County, Kentucky. Though not related by blood to The Buck Whites, Sis jokingly tells me that "Sharon White raised her right, because I listened to her music for so long."
Sis didn't join the trio when it was first established, but she has the veins of true bluegrass running through her soul. She began playing the bluegrass circuit at the age of nine accompanying her brother, Kentucky, and has played behind many of the best flat pickers and fiddlers at fiddle contests across the country. At a festival in Lexington Kentucky, White became friends with Jerry and Kevin Williamson, of the Williamson Family. These two recruited her to play with Red Wing, where they traveled Texas, Florida, Tennessee, and Michigan all the way to Hugo, Oklahoma. Currently, Lauryn is an active member of a local bluegrass band in Kentucky, Storefront Congregation, performing on The American Queen Steamboat. With footprints of bluegrass surrounding Sis in every direction, one can still catch the bluegrass in her harmonies and bass playing.
When you add the personalities of the three lovely ladies, you have The Cherokee Maidens. Deep musical roots, their passion for music and their melodic tunes will make their way into your heart. But what is a trio without a band?
They are supported on stage by Sycamore Swing, led by Macy's husband, Kentucky – who just so happens to be the brother of Sis. Kentucky not only wears the hat of producer for these ladies, but is also well known as a songwriter and outstanding bluegrass musician.
While the Maidens are probably most known for their music, which was influenced by the likes of Bob Wills and Cindy Walker, you can throw in a mixture of the Andrews Sisters with their bluegrass roots, and what you have is pure talent. The Cherokee Maidens are not just swing, they are Gospel, pop, and swing, all bound by their roots of bluegrass
Keep your calendars open because you don't want to miss this trio when they are in your area
Oklahoma-rooted Cherokee Maidens ready new album
by Brandy McConnell      May 26,  2017     NewsOK and Daily Oklahoman
It's no coincidence that the title track of the Cherokee Maidens' new album "My Dixie Darling" is an old tune from the legendary Carter Family.
"It's a family thing we've got going on here now. It's truly a family thing," said red dirt chanteuse Monica Taylor, one third of the interstate Western swing trio.
For the past five years, Taylor, who is based in Perkins, and Dixie Chicks co-founder Robin Macy, who lives in Kansas, have been channeling the likes of Bob Willis' backing singers the McKinney Sisters with the Cherokee Maidens, alongside fellow Kansas crooner Jennifer Pettersen.
"Jennifer got married, and as it happens — things like this happen — they had the most beautiful little girl. … And we are so happy for her. But it turned out that we had to make a decision: We either had to find somebody who was the right person to take her place in the group, or we couldn't sing our songs anymore. It's just one of those deals," Taylor said.
"One door closes and a beautiful window opens, and here comes Sis."
Tri-state trio
As it turns out, that's not just a folksy nickname: Lauren "Sis" White is Macy's sister-in-law. Kentucky "Kenny" White, Macy's husband and White's brother, leads the Maidens' backing band, Sycamore Swing.
"She and Kentucky had a bluegrass band when they were young, and then they each joined many different touring bluegrass bands over the years. Actually, the one she has in Kentucky just split, just decided everybody take a break and do different things. And it worked out perfect for us," Taylor said.
The singers aren't letting the distance get in their way of making beautiful music with their new bandmate, even if Lauren White's Louisville, Kentucky, residency makes the Cherokee Maidens a tri-state trio.
"That's the way it's supposed to be. And we work harder now when we're together to get many shows in a row," Taylor said. "She's back home, and (during the holidays) we practiced around their mom's kitchen table. She fed us like three meals. I don't think we left the kitchen table, literally, this one whole day. We practiced all these songs that she memorized: not just words but the vocal parts. And then we worked on all these new songs. So, it's pretty cool."
Old songs
Apart from a couple of new original tunes, "My Dixie Darling" mostly showcases songs from the 1920s to '40s with an occasional cut from the '50s, '70s and '90s.
"We all have those old-time songs in our blood," Taylor said. "We decided first off we would look for Cindy Walker tunes. You know, she's kind of our muse; she wrote 'Cherokee Maiden.' … We were going to Louisville after Christmas, and we started looking at songs. And we found this one called 'It's All Your Fault,' an old, old song.
"But it only had one verse, so Robin and I wrote that whole second verse — like we have a habit of doing — between Springfield and St. Louis," she added with a laugh. "We texted it to Lauren, and she typed it up. And she took a picture and she said, 'OK, I'm ready for you when you get here.' We got there, and it was like 'Oh my God.' It was so much fun. We all fell into our places, into our vocal parts. … That's when you know it's the right person. That's when you know."
She praised Macy for having a knack for unearthing songs that are hidden old gems and urging the trio to make them shine again.
"I'll be like 'Are you serious? Do you think we can do that?' Like on 'Avalon,' all the scatting. She goes, 'Monica, I am so excited about this. I believe we can do it, and this is something that people don't hear.' She's so creative in that way. … She knows us well enough, and she can figure it out. 'Here's a song, let's try this,' and then we all work really hard," said Taylor, who also performs as a solo artist and with other bands, along with hosting the Cimarron Breeze Concerts in her hometown.
Ray Benson, of the Grammy-winning band Asleep at the Wheel, joined the Maidens on 1951's "Rock City Boogie," a classic cut from Tennessee Ernie Ford and The Dinning Sisters.
"Man, he's awesome. He and Robin go way back. When she had the Dixie Chicks, they shared a lot of shows, a lot of festivals, and shared the stage many different times," Taylor said. "The song was just perfect for him. I mean, he's got that fun-loving music spirit, just like Tennessee Ernie Ford."
Along with Kentucky White, the backing band includes members of the well-regarded Eicher family — Nathan on bass, Isaac on mandolin, and their father, Shelby, on fiddle — plus Steve Bagsby on steel guitar and Brandon Blackburn on drums.
"The guys in the band are the tops. So we feel very blessed that they've hung in there with us. Shelby Eicher and Kenny just can work on arrangements like nobody's business. The arrangements on this new album are stunning; there are some things that I heard I just couldn't believe the intricacy. And they'll be able to play those. They'll be able to play those parts, I have no doubt," Taylor said
Enlightening moments
Accompanied by Sycamore Swing, the trio is playing a quartet of release shows to herald its third album, including a concert Saturday at Oklahoma City's Blue Door and a Thursday SummerStage show at the Tulsa Performing Arts Center.
"There's many songs that we've recorded and that we perform, and people come up and say, 'Oh my gosh, I've never heard that song before. That's a Bob Wills song?' 'Yes, it is.' Or, 'I remember hearing that song.' And then they tell you a story about where they heard it, maybe Grandpa playing it on the radio — or on the fiddle in the living room," Taylor said. "You hear great stories about songs, and if they're really good songs, then they catch people's attention. I love to enlighten people — and I've been enlightened when I hear songs, maybe for the first time, and then I just fall in love with them, but they're 60 years old."
Hearing those family stories feels even more appropriate now that the Cherokee Maidens are even more a family, she said.
"Robin's always been like a sister to me, and Kenny, of course, like a brother. … Now Sis, she's our Dixie Darling. She came and she stepped in and said, 'I'm here to lend my voice and my time and my love to this Cherokee Maidens thing,'" Taylor said. "I feel like, 'Golly, how did this happen?' You know, one thing looks so bleak, and then the next minute you're just in love with this person."
Cherokee Maidens make Western swing into Oklahoma International Bluegrass Festival
Oklahoma-Kansas trio Cherokee Maidens and their backing band Sycamore Swing will perform Thursday, the opening day of the 18th annual Oklahoma International Bluegrass Festival, which continues through Oct. 4 in Guthrie.
GUTHRIE — Red dirt chanteuse Monica Taylor had icicles in her hair and fan-girl enthusiasm in her heart the first time she met fellow singer-songwriter Robin Macy at the Oklahoma International Bluegrass Festival.
"I was playing there as (half of) the Farm Couple, and we were supposed to go play the children's tent — it was a freezing cold Saturday morning — and her mom, Frances Macy, was running the children's tent because she was a retired teacher," Taylor recalled. "So, I got up and did the Farm Couple set and had a wonderful time, and at the end, she came up and said, 'Monica, I just think you ought to meet my daughter. I think y'all would get along really well; you like the same kind of songs.
"She pointed to the corner of the tent where the flap was opening up, and this whole band was walking in. I was like, 'Oh, that's Big Twang. Oh my God, I love them, they are so cool.' And she said, 'There's my daughter now.' … I had icicles in my hair and an old stocking cap on — and every layer of clothing I had on — and Robin walked in in this beautiful dress. I thought, 'Oh, well, she'll never want to talk to me.'"
It's a good thing they listened to Macy's mother: 14 years after they met at the Oklahoma International Bluegrass Festival, Taylor, Macy and bandmate Jennifer Pettersen are bringing their Western swing trio Cherokee Maidens to the Guthrie event for the first time.
"Robin called me about six years ago and said, 'Hey, would you like to come up and sit around with me and another girl and do a little singing on some Bob Wills songs? I think we can get three parts,'" Taylor said. "As soon as we sang the first notes together, I was like 'Have I found my sisters?' It blended so beautifully. It was perfect."
The Maidens, who just released their self-titled debut album, and their backing band Sycamore Swing will perform Thursday, the opening day of the 18th annual Oklahoma International Bluegrass Festival, which continues through Oct. 4 at the Cottonwood Flats festival grounds.
Acoustic showcase
Internationally acclaimed Guthrie-based fiddler Byron Berline, the festival's founder and organizer, said the event is designed to showcase acoustic music, from traditional bluegrass and cowboy songs to folk and Western swing. Along with three full days of live performances and the children's tent, the festival will feature an open mike, youth music competitions, random band jams and more.
This year's festival will get its international flair from Canadian fiddler and step dancer April Verch and Japanese band Blue Side of Lonesome. Tulsa filmmaker James Payne will film the latter's sets for his upcoming documentary "Far Western," about Japan's infatuation with American country music.
Top bluegrass duo Dailey & Vincent will headline the event; the Grammy-nominated pair will perform at the Guthrie festival for the first time Oct. 4.
Also making their festival debut will be The Cleverlys, who will bring their unusual sound to Cottonwood Flats Oct. 3 and 4.
"They act real hillbilly, but all they do is rock 'n' roll stuff on their bluegrass instruments — and they do it excellent. And they're really funny," Berline said.
Oklahomans on the lineup include the Red Dirt Rangers, Cowboy Jim Garling, Hankerin' 4 Hank, The Hunt Family Band and Mountain Smoke, plus former Guthrie denizen Jeff Scroggins and his band Colorado. Home-state red dirt band Turnpike Troubadours will cap the Oct. 3 lineup.
"They've all been to the festival when they were younger kids growing up," Berline said. "They have a really great following now."
Of course, the founder's band will be on the lineup all three days, and like the Cherokee Maidens, Berline's outfit is offering up a new Western swing album, "Swingin' With the Byron Berline Band."
It takes three
Although all three members have Oklahoma roots — along with some American Indian heritage — the Cherokee Maidens are an interstate music project. Taylor is a Perkins-based staple of Oklahoma's red dirt music scene, while Macy, a former teacher and founding member of the Dixie Chicks as well as Big Twang, and Pettersen, a young songbird who was one of Macy's students, are based in Kansas. For several years, they kept their group informal, just playing a few private parties and public shows.
"We weren't really taking it all that serious. We were having fun — not that we take it serious now, but we invested some time and effort to make the record," Macy said. "We got a huge opportunity … and it made us sit down and go, 'OK, if we're ever gonna do it, now's the time.'"
Back in spring, Cherokee Maidens were invited to play the recent Walnut Valley Festival in Winfield, Kan., and they decided if they were going to do it, they wanted to have an album to sell. Macy's guitarist-husband, Kentucky White, produced the self-titled debut, and he put together the vocal group's stellar backing band, Sycamore Swing.
"He really spent a lot of time doing the research to make it as authentic as possible," Macy said. "Half of the songs we'd been doing — of course, 'Cherokee Maiden' and 'I Betcha My Heart (I Love You)' — but we were pretty intentional about trying to find a few B-sides, not just recreating another Western swing compilation. We kind of dug deep to try to find some things that a trio of women had not done."
Along with putting together the album, Taylor said the Maidens took another big step to make their trio official: They contacted the legendary Nudie's Rodeo Tailors to make their coordinating performance outfits. This time when Macy and Taylor, along with Pettersen, get together at the Guthrie festival, they both will be wearing beautiful dresses.
"It's been really fun to get serious about it. When we got those dresses from Nudie's, that pretty much clinched the deal. We're in it now," Taylor said with a laugh. "It's a great festival. It's a great picking festival. It's a great festival to go take your lawn chairs and go listen to music."
FROM THE DALLAS ADVOCATE ARTICLE, November, 2014
Founding Dixie Chicks member to play at Uncle Calvin's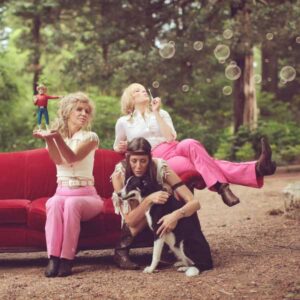 Singer/songwriter Robin Macy's roots in the local bluegrass music scene run deep. Here in Dallas she's best known as a founding member of the Dixie Chicks. In the early days the Chicks performed at nearby venues such as Poor David's Pub and Uncle Calvin's Coffeehouse.
Just a few years before the band gained commercial success, however, Macy bowed out. She preferred writing and performing traditional bluegrass music, while the band shot to fame with a decidedly more contemporary sound. Meanwhile, Macy performed bluegrass with several other bands and working as a math teacher. She even hosted a weekly music show on KERA before moving to Kansas in 1997.
This Friday, Macy's coming back down to the Uncle Calvin's Coffeehouse stage after 17 years, only this time she's performing with a new group of harmonizing women: the Cherokee Maidens. I caught up with Macy over the phone to learn more about what she's been up to since the Dixie Chicks days, and what we can expect at the Friday night show:
Tell me more about your Preston Hollow roots.
In the late '80s I lived on Hollow Way in a garage apartment. I taught math at Hockaday for eight years, and after that I moved into St. Mark's faculty housing on Orchid Lane and taught math at St. Mark's for four years.
And that's where you lived when the Dixie Chicks got started?
Yes. And Uncle Calvin's hosted the Dixie Chicks' first album release party for "Thank Heavens for Dale Evans". [The original band comprised Laura Lynch, Robin Lynn Macy and the Erwin sisters, Martie and Emily. Lynch and Macy later left, and Natalie Maines joined Martie and Emily to form the Dixie Chicks as they're known today.]
Do you still keep in touch with the Dixie Chicks gals since you left the band?
No, but I wish them the best. A lot of people came knocking on my door, especially when the Dixie Chicks' star was rising, and I didn't really want to talk about my history with the band because it didn't serve much purpose beyond titillation.
You now live in a small town in Kansas. How did that come about?
I stumbled upon this historical garden [Bartlett Arboretum] for sale in Kansas after performing there and fell in love with it. I had to buy it. Leaving Dallas and moving here was like going from yin to yang. Now I live in a community of 1200 people. I can run a tab at the grocery store here. People look out for one another. I guess it's a lot like Preston Hollow is — which is a lot like a small town within a big city. I've recorded three solo records since moving to Kansas 17 years ago. They are folksy, earthy, albums — a call to take care of the planet — that were all inspired by the gardens. [Click here to watch a video about the Bartlett Arboretum and Macy's restoration efforts.]
Are those the songs you will sing this Friday?
Friday's concert at Uncle Calvin's will be totally different. It will be whimsical, fun, frivolous, and uptempo. My husband, Kentucky White, is also my producer, and he helps us sound as close as possible to 40s and 50s Western Swing.
Tell me more about the Cherokee Maidens.
Cherokee Maidens — me, Monica Taylor and Jennifer Pettersen — have been performing together for six years now. Taylor has performed on Garrison Keillor's A Prairie Home Companion, and Jennifer's music videos have garnered more than 10,000 hits online Plus, Jennifer's my old guitar and math student, so it's been really fun to perform with her. She's like family.
What kind of music do the Cherokee Maidens play?
Western swing. It's pretty authentic — we have two fiddles and we yodel. We wanted to harmonize like the McKinney sisters did for Bob Wills. In fact, Cherokee Maidens is the name of a Bob Wills song. It's very upbeat and fun music to dance to. The hip young kids will like it, but so will the Bob Wills fans.
Your bands are typically all-female. Is that intentional?
Yes. I've been singing with women my whole life. I've performed with three all-female bands, Danger in the Air, Dixie Chicks, and The Domestic Science Club. My whole musical career has been about power to the girl. But Cherokee Maidens is even more cool because it's multigenerational. I'm the old goat corralling the kids in and bringing them down to Big D.
Are y'all performing songs from a new album?
We released a self-titled album in September, so we're doing a mini-tour showcasing the new songs. Uncle Calvin's is one of three stops for the Cherokee Maidens. We're also performing in the hill country and at the Oklahoma Music Hall of Fame.
What's it like to be able to perform at Uncle Calvin's again after all of this time?
Returning to Dallas, after many moons, is rather surreal. Yet I am very proud of our western swing tribe [Cherokee Maidens] and think we've got something unique. Uncle Calvin's is one of my all-time favorite places to play: I cut my teeth here. The greatest musical experiences I've had are playing at places like Uncle Calvin's where people's kneecaps are touching the stage — they're right there in the palm of your hand. I've played in huge arenas along with orchestras, but playing in a folk club for people who are on the edge of their seats because they're excited to hear what you have to sing — there's just nothing better than that.
FROM THE WICHITA EAGLE, September, 2014
Walnut Valley Bluegrass Festival Full Circle for Cherokee Maidens!
 http://www.kansas.com/entertainment/music-news-reviews/article2101879.html