Buy Monica's songs… and those of her friends. You may use the online order form to buy all of Monica's CDs by mail or her digital music is also available on iTunes, at Amazon and at Google Play.
Cotton Shirt – 2009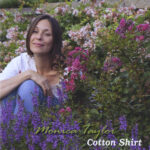 We recorded 8 of these songs in Tulsa at Soultree Recording studio owned by Jared Tyler & Travis Fite. John Fullbright, Shelby Eicher, Doug Weymeir, and the truly fabulous Steve Pryor all played on this recording!
Then Don Morris, Jared Tyler, and I went down to Austin, TX and Cedar Creek Studios to record three tunes- Fred Remmert was engineering. These songs were recorded with Jimmy Lafave and his band- John Inmon, Radoslav Lorkavich, and Mark Patterson with Don Morris on bass.
We began the last two days of July and finished all of the recording by the last week of August… then Jared Tyler- the man who is the reason all happened- and I mixed for about 2 weeks. Jared plays dobro, banjo, gut string guitar, and sings on this project.
Price: $15 + $2 shipping and handling.
Also available on…
Cimarron Valley Girl – 2006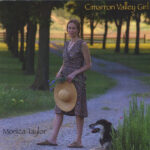 These are songs that I wrote, or grew up listening to… here in this Cimarron Valley of Oklahoma. Contributors on the CD include Tom Skinner, Don Morris, Chuck Dunlap, Jim Karstien, Don Geesling, Patrick Williams, Ray Hamilton, Jared Tyler and more ~ From the back cover.
Price: $15 + $2 shipping and handling.
Also available on…
The Cherokee Maidens
The Cherokee Maidens & Sycamore Swing
For its recording debut, The Cherokee Maidens — they all have some American Indian heritage as well as Oklahoma roots of varying depth — give a rare and irresistible feminine take on often-covered country and Western swing classics like Merle Travis' "Kentucky Means Paradise," Jimmie Rodgers' "Any Old Time" and Cindy Walker's "Sugar Moon." Appropriately, they start their introductory album with their signature song, Walker's "Cherokee Maiden," the Western swing standard made famous by Wills and His Texas Playboys, Merle Haggard and Asleep at the Wheel. ~ Newsok.com
Price: $15 + $2.50 shipping and handling.
Also available on…
The Farm Couple
Fertile Ground – 2005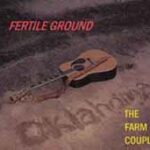 Oklahoma is 'fertile ground' for great songs and songwriters… this was our third and last CD. Here are 12 tunes that we played with our good friend Don Morris (on bass) one evening in the Fall of 2002 down in Tahlequah, OK at Jeff Parker's Cimarron Sound Lab. We all played at one time around a couple of microphones. From the Woody Guthrie song to Bill Erickson's tune to our song entitled "Young Mother" about the photograph taken by Dorthea Lange called "The Migrant Mother."… you can hear our deep Oklahoma roots.
To Patrick and I, the words "Red Dirt" describe the 'grit' of a story that's been passed down in an Oklahoma family… and sometimes it's been put into the form of a song. Just like the red clay that our relatives had to dig, plant, and live in, our music is rooted firmly in Oklahoma. This state has been Fertile Ground for so many folks. The country and gospel sounds… that's us The Farm Couple. ~ From the inside cover.
Price: $15 + $2 shipping and handling.
Songs From The Kitchen Table – 2002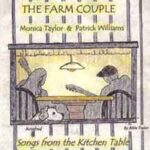 Our Dec. 2001 jam session occurred in a beautiful studio and home overlooking Beaver Lake near Eureka Springs (AR). Eric Shawbacher and Winterwood Studios set us up to record everything at one time. No overdubs… and we swore off any 2nd takes, so what you hear is Patrick, Don Morris, and I just playing song after song. 26 songs, a bunch of coffee and tuning breaks, and 5 hours of fun with friends! There's no better way to spend an evening. Don Morris is a wonderful songwriter and busy bass player. He and his lovely wife Marilyn live in Tulsa. When we have an evening that Don is able to play with us, it always turns out great! My mother drew the picture for this second Farm Couple CD… with Rosebud listening to our practice. ~ From the inside cover.
Price: $15 + $2 shipping and handling.
The Farm Couple – 1999
Thank you's We would like to thank most importantly the greatest "farmer" of all – the one who gave us the seeds of our music to sow – the Good Lord above. Next, we'd like to think Brian and Paul Rossler for believing in us and giving us the chance to live out our dreams. A big "Thanks" goes to our friends who are out there "spreadin' a little Red Dirt music" around, too. Last, but not least, we'd like to thank the people who come out and support us at our shows. And remember, if you see us broke down on the side of the road, be sure to stop and help us out, because we're probably out of duct and bailing wire… Besides, its the "Farm Couple" way. ~ From the inside cover.
Price: $15 + $2 shipping and handling.
Jim Paul Blair
Fresh off the String – 2003

"Fresh Off The Strings" is Jim Paul Blair's first solo release. Although presented in the style of traditional bluegrass, "Fresh Off The Strings" delivers original arrangements of classic bluegrass, country, and rock along with three new tunes.
Among friends contributing help in the studio include Byron Berline, Levi Dennis, Don Morris, Monica Taylor, Steve Thomas, and Chris Joslin.
Bob Childers
Cross Canadian Ragweed
Carney – 2004

The Oklahoma band's touring experience shines through on this tightly played set of rootsy Americana, which spans the eccentric lyrics of "Carney Man," the Southern rock of "Headed South," the raunchy country of "Go on and Lie," and the reflective … Full Description"On Your Own." Live Recording ~ CD Universe
Cross Canadian Ragweed: Cody Canada (vocals, guitar, harmonica); Grady Cross (guitar); Jeremy Plato (bass, background vocals); Randy Ragsdale (drums, percussion).
Monica sings harmony vocals with the boys.
Bill Erickson and The Migrant Workers
Greg Jacobs
Reclining with Age – 2002

Making music again was becoming more and more important to Jacobs and in 1994 he stepped into the studio and recorded the album Looking at the Moon, followed by 1996's Reclining With Age. Meant strictly for selling at gigs and for giving to friends, both albums reflected the intelligent songwriting he had always been known for. With a near equal mix of country/folk and country/blues, Jacobs songs reflected his wounds of love and lessons of life.
~ Binky Records
Look at Love – 1999

"I like to change tempo a lot. Play a ballad followed by a mid-tempo blues rocker. My songs are a mix of country, folk, blues and even a few jazz licks. Sometimes they are all in the same song. I like to mix it up." ~ Binky Records
Listen / Buy CDs at Binky Records
The Medicine Show: Live at The Tower Theaters – 1990
Robin Macy
Songs from the Garden – 2008

Robin Macy sings from her heart and from the heartland on a new collection of songs that blend sophisticated musicality, lyrics rooted in the black Kansas soil and brilliant accompaniment by an all-star cast. "Songs from the Garden," Robin's first solo effort, draws on all of the forces at her disposal: her strong, other-era voice, gifted songwriting, network of exceptional musician friends and inspiration from Bartlett Arboretum, the bountiful patch of nature she calls home. ~ From the Barlett Arboretum website
Buy the CD at Bartlett Arboretum site
Don Morris
Traveling Boy – 2005

Red dirt music with real heart.
Backroads – 2003

Red Dirt music at its best. Singer/songwriter Don Morris crafts songs of life played acoustically in a folk/western/indie style.
Randy Pease

Call Me Ishmael – 1998
Randy Pease finished his debut CD, Call Me Ishmael, in early 1998. The record was shopped to several labels and Binky Records licensed it for release. The CD quickly became a favorite of other musicians and eventually led to two more cover versions of his songs. Randy's version of his own Sawdust Trail gained a fair bit of audio play while Orpheus and the A Gig From Hell (all 12:16 of it!) became an educational epic. Two songs were featured on the Binky Records Sampler II. ~ Binky Records
Listen / Buy CD at Binky Records
Tom Skinner
Farmboy – 2003

The band recorded a live album, which, though never released, spawned a killer version of Skyline Radio (featured on the Binky Records Sampler 1). The live Farmboy disc, augmented by 4 studio tracks, will appear in summer, 2003 at the same time as the Dusty Children record.
~ Binky Records
Acoustic Skinner – 1998

The following year, Skinner hit the studio with nothing more than a guitar and an incredible batch of songs. The result, Acoustic Skinner, showcased Tom's voice in a totally unplugged environment. Skinner followed the release by hitting the road with his band Farmboy (later re-titled the Dusty Children). ~ Binky Records
Times Have Changed – 1997

Released in 1997, Times Have Changed is a stunning collection of thirteen original compositions by Tom and some of his Okie compadres. Early pressings of the disc include two additional acoustic tracks. One song from the disc, Maybe It's Love, was licensed for use in a film while another, Water Your Own Yard, was recorded (though not yet released) by southern rockers Lynyrd Skynyrd. A song from the CD, Goin' Down the River Road, was later recorded by Cajun music star Waylon Tibodeaux. ~ Binky Records
Listen / Buy CDs at Binky Records
Others
Restless Spirit: A Tribute to the Songs of Bob Childers – 2004


In the end we collected 56 songs by over 50 different artists. Some of the participants are huge stars while others are everyday gigging musicians, but all are part of Bob Childers scope of influence. I often refer to Bob as "an obscure legend." Only the music world seems to know he exists. Hopefully, this collection will find its way into hands that can help spread the word. ~ Binky Records
Listen / Buy CD at Binky Records
Red Dirt Sampler – 1997

 Various Artists including songs Ain't Nothin', Not Many a Woman (Hey Sarah), Wildflowers, Ride for the Cimarron, A Little Rain Will Do, …
Still available at several outlets