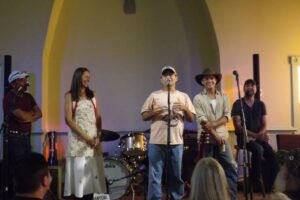 The Cimarron Breeze concerts and the songwriter showcases are held in the Old Church that sits at the Oklahoma Territorial Plaza in Perkins, Oklahoma. You can buy tickets for any of these shows.
In the past three years, the series has hosted the heart of the Oklahoma music scene full of amazing songwriters, musicians, songs, and a few potluck dinners, too!
The old church held services since the 1890's for almost a century. It now holds 'church' again in the form of these amazing concerts! Through the efforts of Monica Taylor and David Sasser, publisher of the Perkins Journal, the church has hosted John Fulbright, Jimmy Lafave, The Cherokee Maidens & Sycamore Swing, Joel Rafael, Don Conoscenti, etc.